Do you wanna live and work from anywhere?
Sign up for our newsletter and get your 50€ DNX discount as a BONUS plus your free success kit for digital nomads on top. In this workbook, you learn about our 7 secrets to a location-independent lifestyle and discover how to gain personal and financial freedom. Furthermore, you get a free 6-part Email Course + Bonus with priceless tips for Digital Nomads.
What are the 7 secrets for a life of freedom
How you create your own rules
How to deal with loneliness and stay productive
What are the TOP 10 hotspots for digital nomads
What are the best websites, hackz and tools for digital nomads and more...
We ♥ your privacy and would never spam you.
FREE SUCCESS KIT including Workbook, Email Course and more!
In our success kit for digital nomads you learn about our 7 secrets to become a successful digital nomad, the best hotspots, life hacking tools and much more. Just subscribe with your email and get instant access.
We are totally happy that you have found your way to DNX. We are Marcus Meurer and
Felicia Hargarten, passionate digital nomads who started the global DNX movement. We organize the biggest events for location independent entrepreneurs.
The DNX Digital Nomad Festival is available in German, English and Spanish.
We live and work 100% location independent from anywhere in the world. Mostly we are in Southeast Asia, Brazil and Southern Europe. During our trips we regularly organize Coworking & Coliving Camps at the greatest places worldwide.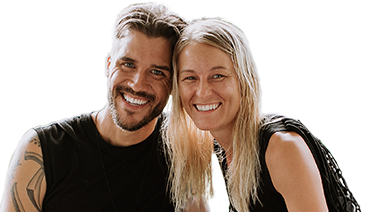 Tom Eberts

"DNX is amazing and there is so much value in this free package. It really changed my life and I implemented many of their tips in my daily life. In the email series you learn why and where you are on the roadmap, about productivity tools & routines, how to deal with loneliness on the road and entrepreneurial burnout, why and how the world is changing right now and so much more."
Diego Araos

"I love DNX and Feli and Marcus are doing a really great job. The 7 secrets for success are amazing and very helpful as well as the other checklists like the best tools for personal and business life and the best digital nomad hotspots with links to communities, co-working spaces, accommodations or SIM cards.

I made so many new friends through the DNX Community and attended the DNX CAMP on Lemnos. Highly recommend it!"